Because I was bored
th1s guy is @s b1g a tr0ll as i am and if th3 @dmin iz g0in to b@n p3opl3 th3y sh0uld b@n conemoron seriossly his p0sts r p0intlezz

iz th1z k1nd of post any mor3 serioss than my towrmnt r3p0rt?
if u r going 2 ban p3opl3 like m3 cuz we make stupid posts th3n ban conemoron
I think Link should also have the ability, whenever an equipment comes under your control you may attach it to link wihtout paying its equipped cost. Also he should be 3/4 so he doesnt do to bolt and have vigilance. Link doesnt needs rest from battle

Also a new card

Link, Hero of Time
2GGWW
Legendary Creature- Elf Warrior
4/4

GGWW- Suspend 1

Vigilance, Reach, Double Strike, Can Block up to 2 creatures

if you suspended Link, Hero of Time, put a 1/1 white Faerie Spirit toke into play.
here's a few more from Ocarina of Time

the Great Deku Tree
Legendary Creature- Treefolk
0/9
GGGG

All Elves and Treefolk you control get +1/+1

During your upkeep you may pay GW, if you do put a 1/1 green elf token and a 1/1 white flying faerie spirit token into play

the Great Deku tree cant be the target of spells or abilities from cards with converted mana cost 3 or less.

Darunia, King of the Gorons
Legendary Creature- Goron
4/2
2RRR

All other Gorons get +1/+1

RR (tap) Darunia deals 3 damage to target creature

Ganondorf, Evil King of the Gerudo
Legendary Creature- Gerudo Thief
6/6
2BBRR

Flying, Protection from Red and Black
BB (tap) target creature get -2/-2
RR, Target creature cannot block this turn
I was trying to design Link to be less game specific and more LoZ series general. Zelda I chose the OoT version because she is REALLY boring in pretty much every other LoZ game, and I thought it would be fun to do a flip card.
i agree, i like that design. these are fun to come up with, too bad there isnt a Nintendo classics Magic expansion where you can actually play with a Link, Zelda, Mario, Metroid and such. I know its cheesy but it would be fun to draft at least.
Yeah, I got started on this because one of my friends pulled this as a joke card, which I thought was funny: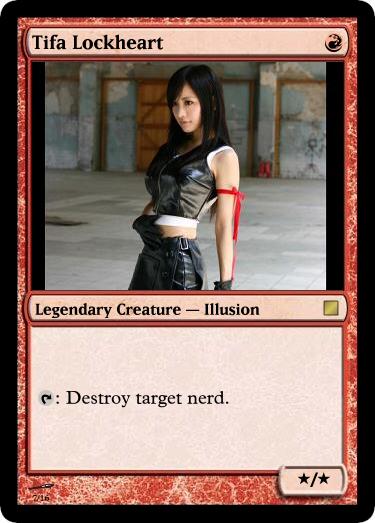 OMG U 2 R TOTAL TR0LLS WTF R U TALK AB0UT 7HIS IZ TR0LLING U R W@ST1NG 3V3RYON3'S TIM3 U R WORSE THANNN M3 WI7H TH3S3 STUP1D THREADS THA7 HAV3 NUTTIN TO DO WI7H MAGIK CRADS THIS IS A SERRIOSS 4UM U R SPAMMMMIN STUP1D FAKE CRADS STOP TR0LLING

ADMIN BAN CONEMORON HES WASTING OUR TIM3!!!!!111
[img]
[/img]